Destination: KOSH (Oshkosh, WI)
Departure: KSBA (Santa Barbara, CA) 
Route: KSBA-KINW-KTCC-KICT-KAWG-KFLD-KOSH 
Aircraft: Grumman Tiger (AA5B) 

EAA AirVenture is the largest gathering of aircraft and aviation enthusiasts held every summer is KOSH (Wittman Regional Airport, Oshkosh, WI). It goes on for one whole week: in 2019 it was running from Mon Jul 22 to Sun Jul 28. In 2018 it featured about 10,000 aircraft and 600,000 visitors. It is often referred to as a "must", and, from my experience, it exceeded expectations. It was definitely worth the trip.
A friend of mine owns a Grumman Tiger, an aircraft I am also familiar with, and we decided to fly together to Oshkosh this year, staring from Santa Barbara, California.
Such a multi-day flying trip from California to Wisconsin requires good planning and flexibility on the schedule. First of all, you will need to cross the continental divided in the summer, meaning high terrain and high density altitude (make sure you know the limits of your airplane and you have some high-density altitude experience). Secondly, weather in the central US will dictate your final route and schedule. In third place, during AirVenture, the airspace around KOSH becomes the world busiest airspace. The FAA publish as 32 pages NOTAM booklet you will need to get familiar with before starting your trip.
We decided to take off on the Friday afternoon of the week before AirVenture. The plan was to get as close as possible to the continental divide on Friday night, and then take off Saturday early morning and cross high terrain when the air is still cool and less turbulent than during afternoons. Moreover, by leaving on Friday afternoon, we had a best case scenario of getting to KOSH on Sunday evening; in case of delays, we would still have a whole week to get there and still enjoy a significant part of the event.
My friend's Tiger holds a total of 51 gal of fuel and, when leaned properly during cruise, it burns close to 10 gal/hr. Therefore we planned on doing two legs each day with a limit of 4 hrs of flight time.
Leg 1: KSBA to KINW

Destination: KINW (Winslow-Lindberg Regional Airport, AZ)
Departure: KSBA (Santa Barbara, CA)
Route: KSBA-FIM-PMD-HEC-IGM-FLG-KINW
Altitude: 9500' MSL
Flight Time: 3h42m
After an unexpected delay due to a technical issue with the aircraft, we took off at 16:00 towards KINW (Winslow-Lindberg Regional Airport, AZ) with the plan to divert to KSEZ (Sedona, AZ) in case winds aloft would prevent us from getting on the ground at our preferred destination within 4 hrs and within half hour after sunset.
Arizona does not observe Daylight Saving Time, so when California is DST, both states are in the same time.
Luckily the winds aloft cooperated and it turned out to be a nice uneventful flight at 9500' MSL.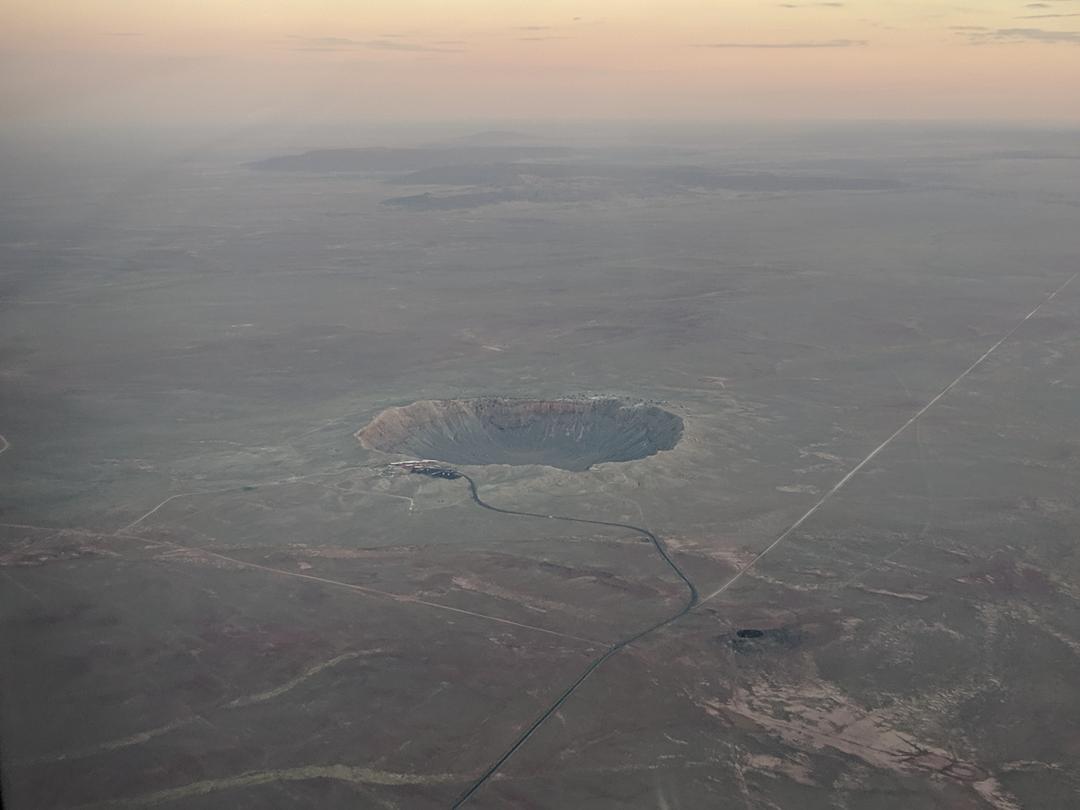 We got an impressive view of the Meteor Crater (in the picture above) and landed in KINW right about sunset. The airport has two nice 7000+' x 150' runways.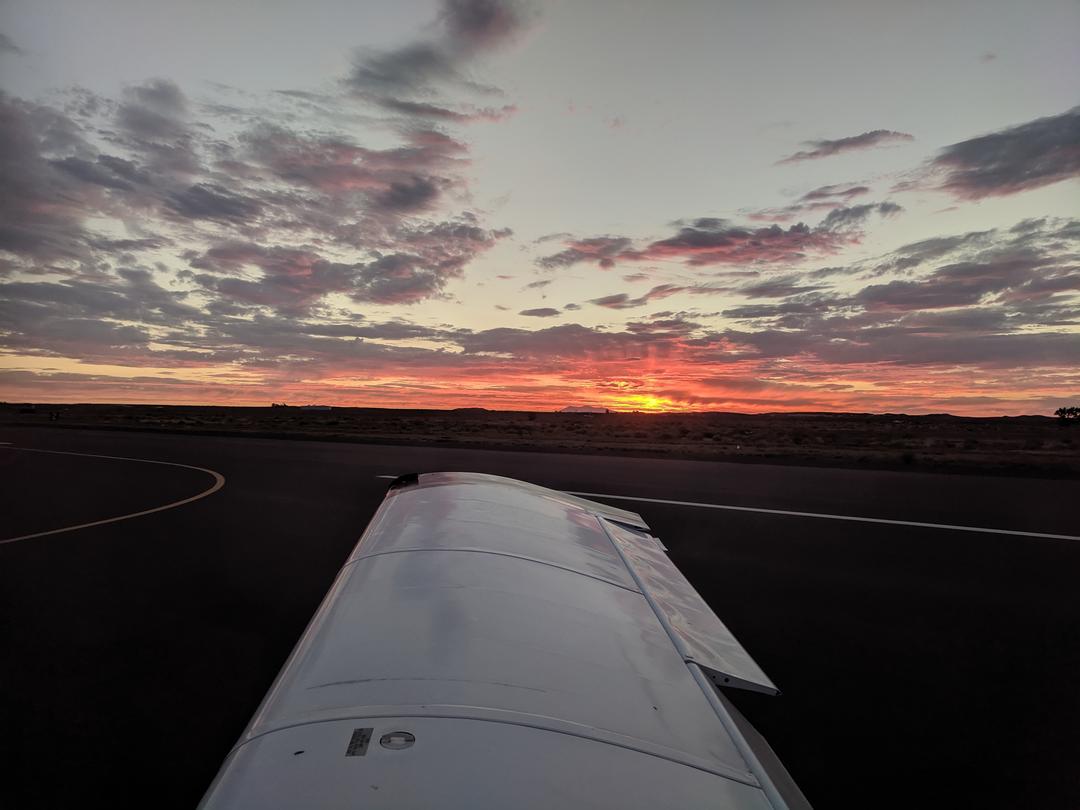 The fuel self-serve station is bit tricky to find. The large tanks (near the parking area) which look like fuel tanks are actually used for fire retardant. The fuel self-serve station is east of the FBO, and you need to taxi around the FBO along the taxiway parallel to runway 11-29).
The local FBO had already closed at 18:00 MST. However, two very nice people operating the local restaurant (E and O kitchen, which had already closed as well) were still there and gave us a fresh drink, a few motel/dining recommendations, and a ride to the hotel.
We stayed at the Earls Rt 66 Motor Court, a clean and friendly motel (except for the noisy A/C above the bed which induced odd dreams!).
From there we walked 10 minutes to dinner at the RelicRoad Brewing Company and for breakfast at Turquoise Room, 5 minutes away.
Leg 2: KINW to KTCC

Destination: KTCC (Tucumcari Municipal Airport, NM)
Departure: KINW (Winslow-Lindberg Regional Airport, AZ)
Route: KINW-GUP-GNT-ABQ-ACH-KTCC
Altitude: 9500'-11500' MSL
Flight Time: 3h02m
Despite our plan to depart shorty after sunrise, the self-serve pump was out of order, and we could not refuel the night before. We had a good breakfast and then showed up at the FBO when they opened (08:00 MST) for fueling and an actual departure at 09:13 MST towards KTCC (Tucumcari Municipal Airport, NM).
The outside air temperature was already above 30°C, which, at a field elevation of 4951' MSL, meant a density altitude close to 8000'! We had to be ready for a long take-off roll and anemic climb performance, still within the capabilities of the aircraft.
We selected KTCC as our next destination based on low field elevation (the New Mexico area was going though a heat wave and we wanted to minimize density altitude at take-off) and furthest distance along our route that kept us comfortable with fuel planning.
We climbed initially to 9500' MSL and followed I-40 to avoid higher terrain and kept civilization close in case of an unexpected forced landing. The air was choppier than the previous day, so after 1 hr we climbed to 11500' MSL, in search for smoother air. It took us about 15' to climb those 2000' (also because we used a shallow climb to keep the airspeed up for engine cooling purpose), but it turned out to be beneficial.
Passing the Continental Divide near Albuquerque turned out to be uneventful and we started our descent towards KTCC for a 13:15 MST landing.
The hardest part of this leg was figuring out how to pronounce "Tucumcari" when announcing ourselves over the CTAF. It looks like we were close enough, as an airport operator welcomed us over the CTAF during our approach and gave us taxi instructions to the fuel pump.
He also offered us the use of a courtesy car (a decommissioned police car) to drive into town for a lunch break. After a stop at Del's Restaurant and at a gas station to fill up the car tank, we drove back to the KTCC for our next leg.
Leg 3: KTCC to KICT
Destination: KICT (Wichita Dwight D Eisenhower National Airport, KS)
Departure: KTCC (Tucumcari Municipal Airport, NM)
Route: direct
During Saturday a large storm system had developed in the North part of the country and was sweeping over Oshkosh, and was predicted to move further South along our planned route. We still had good weather to our next leg on Saturday afternoon, but there was a good chance our Sunday morning leg was going to be delayed due to weather. We selected a larger airport, KICT (Wichita, KS), as our next stop, where Signature had parking space in a hangar and we were close to a larger city in case we had to wait the storm out (which turned out to be a wise choice).
We took off from KTCC at 15:12 CDT. The outside air temperature at the ground was 40°C. This was another 7800' DA departure, luckily over a 10000' runway. The engine however, was less happy than on previous flights. The oil temperature was indicating abnormally high. However it showed no worsening trend during the climb, so we decided to continue and indeed once level at a higher altitude, the cooler air and faster airspeed helped to restore the normal operating range.
Now over the flat lands in the mid-US, we proceeded direct to our destination. The whole flight was warm and choppy, probably the least pleasant of the whole trip.
Once in KICT, we parked at Signature, who booked for us a room in the nearby Hilton DoubleTree. Due to a forecast for a storm going over our area, we decided to keep the aircraft in a hangar (not cheap: $150!).
Leg 4: KICT to KAWG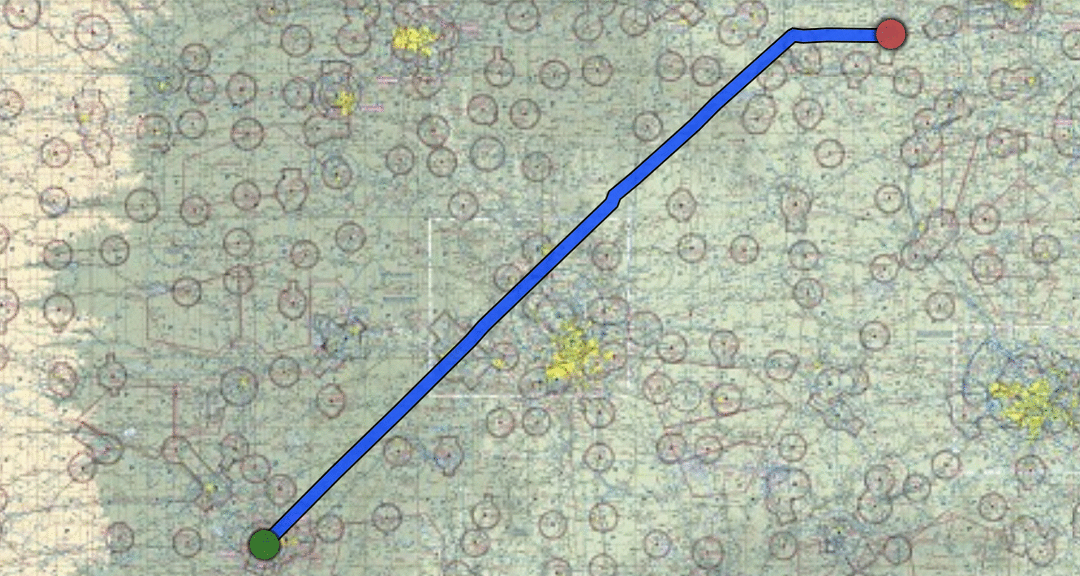 Destination: KAWG (Washington Municipal Airport, IW)
Departure: KICT (Wichita Dwight D Eisenhower National Airport, KS)
Route: direct KCID with diversion to KAWG
Altitude: 7500'-3500' MSL
Flight Time: 3h30m
On Sunday morning the storm system was active, wide, and across our intended flight path and promising to stay in the way for the rest of the day.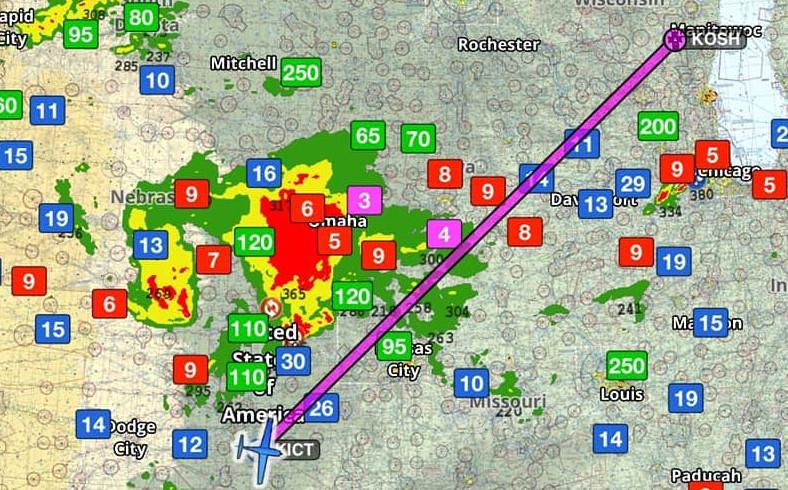 On the good side, Oshkosh was now clear of the storm and arrivals were open. Everybody who had not been able to get into AirVenture before the storm was now in the air, in line or holding for the Fisk Arrival (screenshot below from https://www.adsbexchange.com/).
Lastly, we also learned that most of the camping and parking areas were muddy and closed waiting for the ground to dry. Some aircraft sustained damage.
All things considered, we decided to stay another 24 hours in Wichita. From the hotel we walked to the airport terminal where we rented a car. On Sunday we spent the day at the Kansas Aviation Museum and the Exploration Place (more kid-targeted than we expected).
Monday morning, when no more storm activity was forecast between us and AirVenture, we took off at 08:58 CDT direct towards KCID (Cedar Rapids, IW) at 7500' MSL.
As we progressed towards out destination, more and more cumulus clouds appeared below us, some of them with concerning vertical development. We wanted to avoid having to descend through turbulent clouds later in the flight, so we decided to descend right away VFR to 5500' MSL through a very large hole. It turned out that the base of the clouds was around 4000' MSL, so we ended up at 3500' MSL. Here the air was hotter and choppy, but at least we got rid of our initial concern.
About 40nm from KICD, the METAR and ATIS got updated with a crosswind gusting to 17 knots. Therefore, we looked for a nearby airport with a runway more aligned with the wind (and with available fuel), deciding to land at KAWG (Washington Municipal Airport, IW).
We got on the ground at 12:28 CDT and had out pocket lunch we brought with us from Wichita.
Leg 5: KAWG to KFLD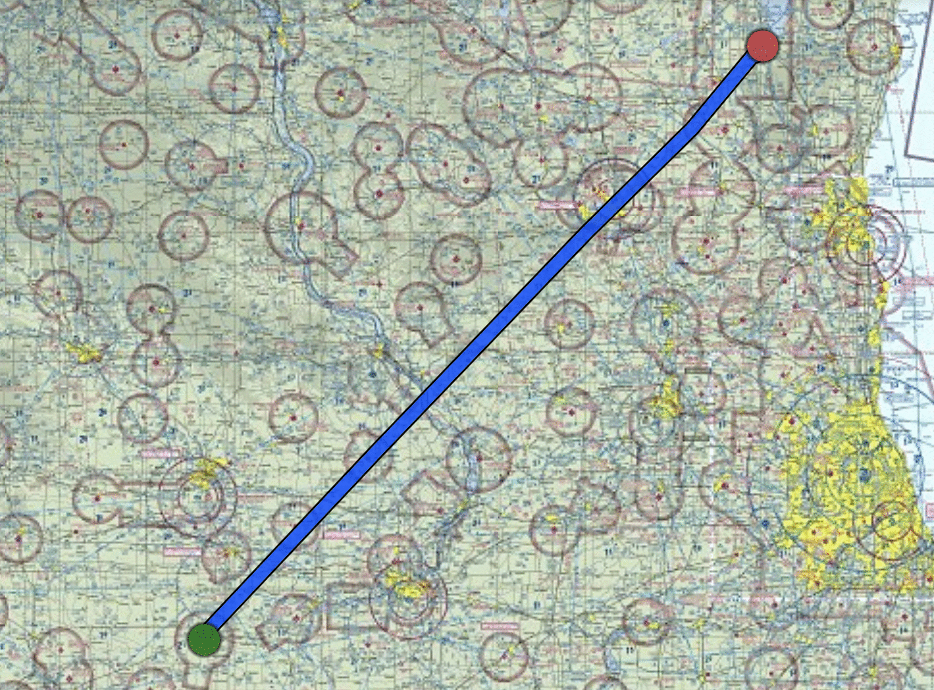 Destination: KFLD (Fond Du Lac County Airport, WI)
Departure: KAWG (Washington Municipal Airport, IW)
Route: direct
Altitude: 3500'-5500' MSL
Flight Time: 1h56m
Time for the last leg into Oshkosh! Or maybe not...
The VFR arrival procedures are described in detail in the special 32-page NOTAM. Every pilot is supposed to have a printed copy in the aircraft and be familiar with it before departing towards Oshkosh.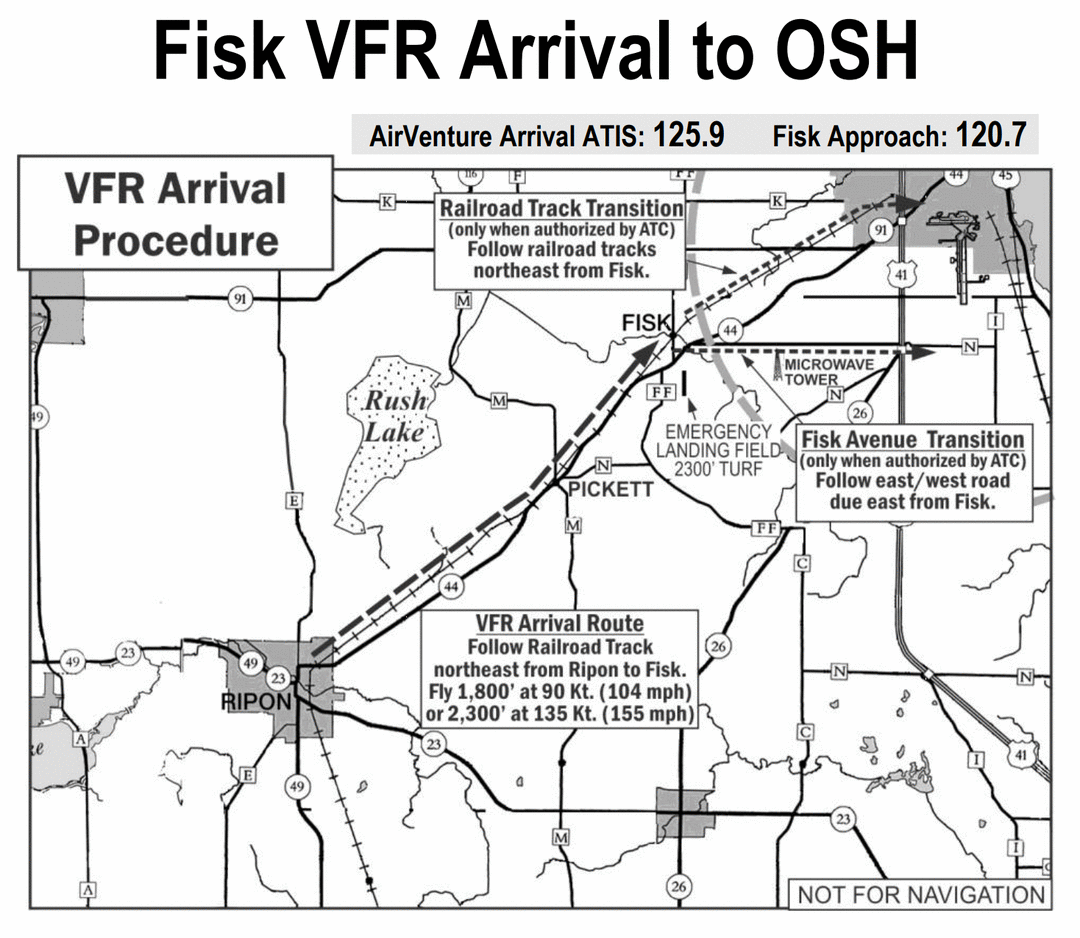 In short:
30 nm before KOSH, turn on all your lights and listen to the ATIS
fly to RIPON at 90 knots and 1800' MSL
monitor Fisk Approach
follow traffic in front of you no closer than 0.5 nm
visually fly along the railroad track until FISK (GPS nav point FISKE)
once above Fisk, Fisk approach will call you by type and color, to which you answer by rocking your wings
Fisk approach will assign you one of the runways, which have additional dedicated procedures in the booklet
During our lunch at KAWG we started listening to the streaming audio from the Oshkosh ATIS, Fisk Arrival, and Tower via LiveATC, so that we could get familiar with what was going on over there.
We learned that they were no longer accepting additional GA aircraft in the camping area. They were accepting lightweight single propeller aircraft in the non-camping parking area, but we would not have anywhere to stay over night.
Also, we got reminded by a fellow pilot in KAWG on his way to KOSH that the Oshkosh airspace was going to be closed from 14:30 until 18:30 CDT daily Mon-Fri due to airshows. True, it was on the NOTAMs, but we had forgotten about that important detail. There was no way we would be able to get there before the airspace closure.
The NOTAM describes additional airports in the area that were setup with camping areas and transportation services to AirVenture. KFLD (Fond Du Lac County Airport), KATW (Appleton International Airport), and KGRB (Green Bay-Austin Straubel International Airport). Therefore, we decided to fly KFLD, the closet, and divert to one of the other two in case KFLD camping was also closed to new arrivals.
We read again the arrival procedures for KFLD and went wheels up at 13:46 PDT. We tried to fly this short leg at 3500' MSL initially, but we climbed to 5500' MSL in search for smoother air.
At KFLD we got a taste of what "busy airspace" meant in Oshkosh terms: once we contacted the toward 15 nm out, we got instructed to enter a left base for runway 36 (runway 27 had been transformed into parking space!) and visually sequenced with other 4-5 aircraft approaching to land either from the final or base legs.
We got on the ground at 15:42 and marshallers directed us to the camping area. We were told we got one of the last five camping spots available! Lucky timing!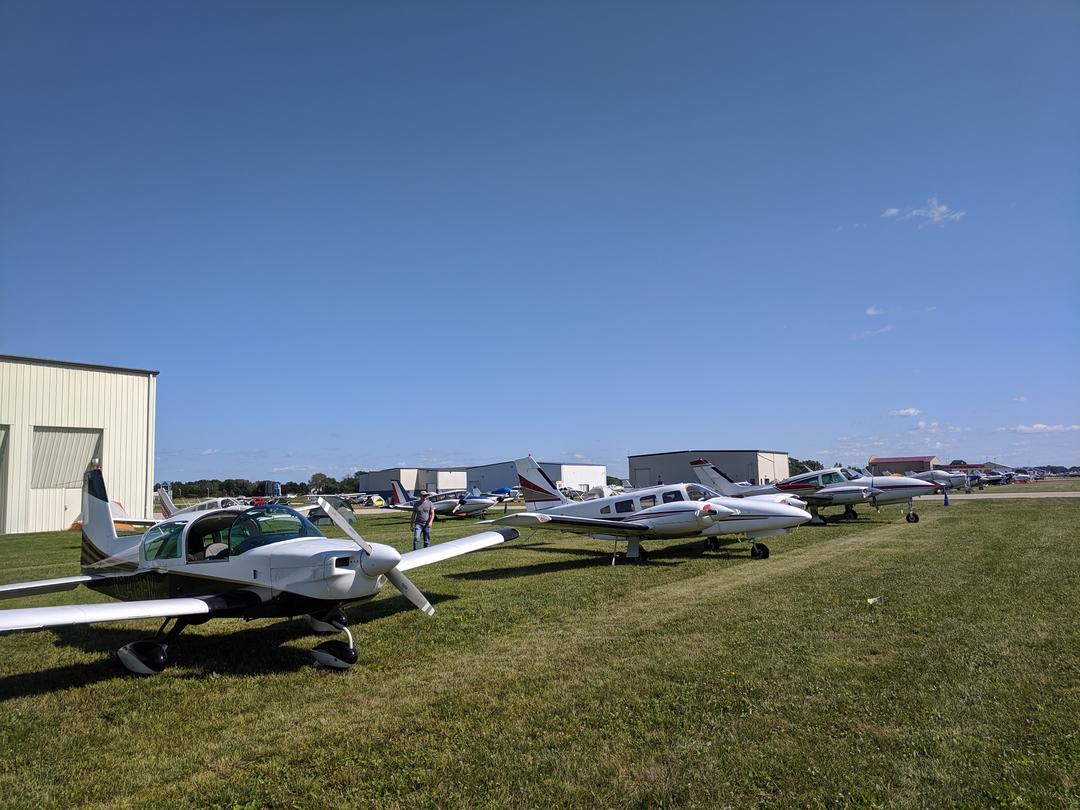 We paid the weekly camping fee ($50) and pitched our tent on the grassy ground, but we did not give up hope to get into Oshkosh later in the week.
The set up in KFLD was pretty nice, with showers, a food truck, and an hourly bus service to Oshkosh. We only got a single round-trip ticket ($27) instead of a weekly bus pass ($103) and went to check out the show.
By the time we got there, most exhibitors had already closed their stands, but we were able to walk around a bit. What struck me the most was the endless lines of small aircraft parked in the grass areas: homebuilt, vintage, warbirds, amphibian, etc...
We managed to get some dinner and enjoy the Fighter show.

Not bad for a first half day at AirVenture.
Leg 6: KFLD to KOSH
Destination: KOSH (Wittman Regional Airport, WI)
Departure: KFLD (Fond Du Lac County Airport, WI)
Route: Fisk Arrival
Altitude: 1800' MSL
On Tuesday morning we were woken up at 07:00 by multiple airplanes taking off and by the prop wash of our neighbor. We listened to the KOSH ATIS and they did not say that GA camping was closed. Therefore we broke down the tent, threw everything in the back of the airplane, did a preflight, and were ready for departure.
KFLD ground did not even ask in what direction we were going to depart. They just told us that the Oshkosh controllers wanted the Fisk Approach to started from the South-West corner of Green Lake, that day. It looks like everybody was doing the same...
We departed on the left crosswind for runway 36 and went direct to the indicated point at 1800' MSL and 90 knots.
Once there we found some traffic to follow and we got a spot in the air procession. Having ADS-B in on our tablets was extremely helpful in trying to spot the other traffic in the other. Of course visual scanning is the main method for traffic avoidance, but ADS-B in gives you hint about where to look for other other traffic.
What really helped was having two people in the aircraft. One flies the airplane and keeps his eyes constantly out scanning for traffic, and the other one has an EFB on one hand and the NOTAMs on the other one, and helps spotting traffic and landmarks for navigation.
Once we got to Ripon, it was easy to confuse the railway (which was supposed to be followed), with another road (which was departing from the same area and was more prominent). Once we got closer, though, it became clear which was which and we adjusted our course.
Once at Fisk we got called out (as expected) and instructed to continue following the railroad for runway 27. We switched frequencies and followed the written instructions: follow railroad, turn right to enter downwind when abeam the water tank, keep the gravel pit to the left, turned base before reaching the shoreline.
The safety instinct of avoiding getting too close to other traffic on final at the shoreline caused us to turned base past the shoreline, but we were quickly instructed to turn immediately and land on the green dot of the runway.
After landing we put the "GAC" sign (General Aviation Camping) on our windshield and got directed by marshallers to the camping area. After 15 minutes of taxing on taxiways, runways, and grass, we got to our assigned camping spot!
Finally with our aircraft on Oshkosh ground!
The organization there was impressive. The campground had showers with hot water and air conditioning, plenty of power columns for charging devices and solid Wi-Fi coverage. There were buses going around every few minutes that would bring you anywhere at the AirVenture.
When you register your aircraft you pay for the whole week ($28/day), but when you leave you get reimbursed for the unused day (provided you turn in the slip they gave you on the first day).