Out of three times in the past two years, on two occasions there was a plane wreckage on the side of the runway.
I recommend everyone who is planning a flying trip to The Bahamas to purchase the AOPA Pilot Guide. If you look up Staniel Cay you see a prominent remark calling for "Often Strong Crosswinds", which has been true each time I've been there.
---
Airport:MYES
Route: MYBS - MYES 
Aircraft: N863PA - C172RG 
Transportation: Golf Cart
---
Normally the Runway in use in 17, the approach path goes over a lagoon and next to a small hill. The wind, gusting perpendicular to the runway from the left often creates some turbulence right abeam the hill (see picture) and at that point of the approach you will be at around 200 ft AGL, be cautious.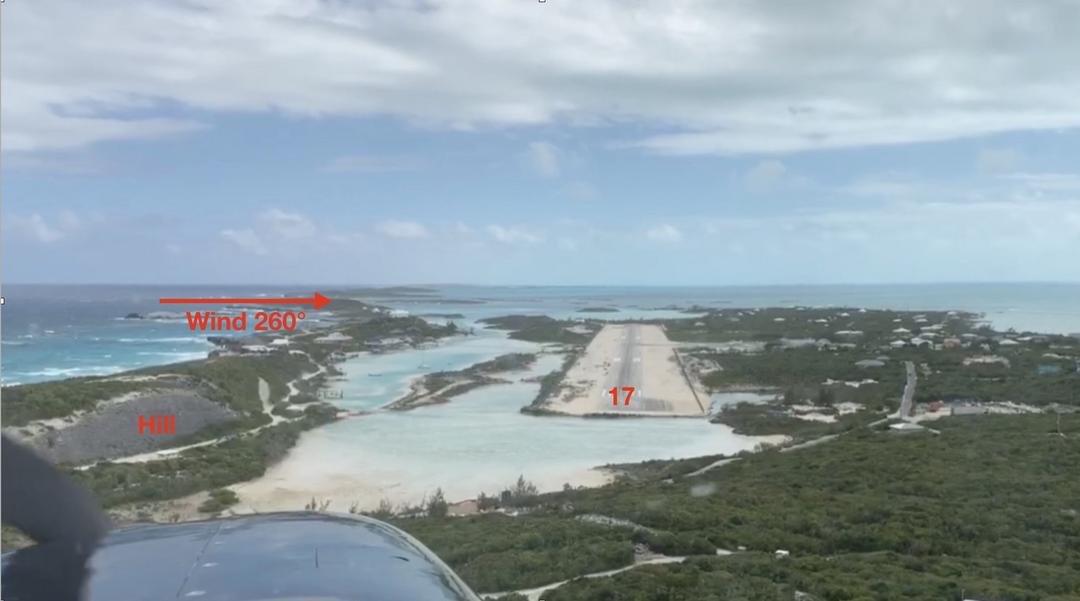 Staniel Cay is a fun airport to land at, come in carrying extra speed to attain more positive control of the aircraft and, most importantly, be ready to go around how many times you need.
Also, Staniel Cay gets pretty busy, and landing aircrafts need to taxi back on the only runway to get to the Apron. Don't get the traffic intimidate you, take the time you need to stabilize your approach, and make sure you clearly state your position and intentions on the Exumas CTAF (122.80 at the time of this post)
The epicenter of the life of the island is the Staniel Cay Yacht Club. It gets busy pretty fast, make sure to book enough in advance